Germany Calling...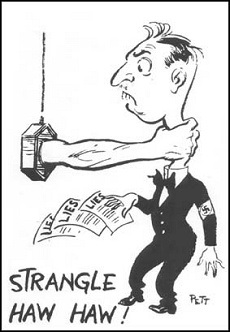 Despite the huge popularity of Lord Haw Haw's wartime broadcasts, most people realised they were nothing more than blatant Nazi propoganda and lies.

Captured by the British, Joyce stood trial for treason. His claim of American citizenship was denied because he held a British passport. He was found guilty and hanged on January 3, 1946

Cartoon:-Lord Haw-Haw, Daily Mirror (12th June, 1940)

William Joyce was born in Brooklyn, NY. At the age of three, his family moved to Ireland. They remained there until Joyce turned 17, when they moved to London. Although he and his family claimed several times on various government forms that William was a "British subject by birth"; this was not the case. Nor did he ever become a naturalized citizen.
He was an American living abroad, pure and simple; still a traitor!
Learn more about Lord Haw-Haw
on wikipedia, the BBC, IWM; and read about him being hanged in the Guardian.