4: The Homesteaders
Back east, where land was expensive and many people were poor, a man called George Henry Evans said that the Great Plains should be free, and that a man should be able to win ownership of the land simply by working it. In 1862, the government passed the Homesteaders Act allowed settlers to claim 160 acres of free land if they lived on it and worked it.
Younger sons – who knew they would never inherit the family land – WANTED their own farms. The Homesteaders Act gave them the chance to get their own land at the cost of nothing but hard work.
'Go West, young man, and grow up with the country!' advised Horace Greeley, editor of the New York Tribune newspaper, in 1865. So many people did just that. They were called 'homesteaders'.
After the American Civil War and the abolition of slavery, many of the first homesteaders in the American West were freed black ex-slaves, who WANTED a new life as well as free land. This 1870 photograph shows the homestead and family of Rpbert Anderson, a freed slave who settled in Nebraska.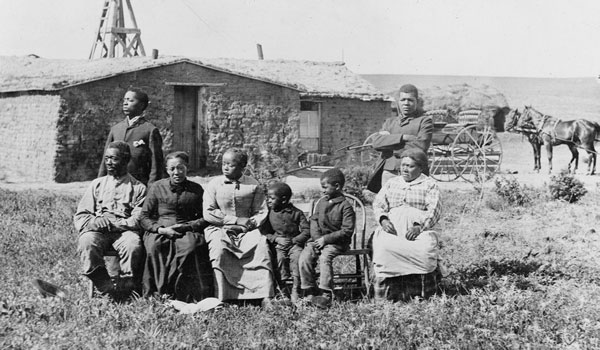 The American Civil War of 1861-65 had an effect on the Great Plains too. For four years, young men who would otherwise have stayed at home, instead joined the army and travelled around the country, living a life of great excitement and danger. After the war they could not settle down into their old life, and set off West. They WANTED adventure and the good life.
Some of them – such as the famous James Brothers – were mentally-damaged and violent, and ended up getting into a life of crime.
In 1869, the Union Pacific Railroad was finished, linking the east coast with the west coast across the Great Plains. The railroads encouraged ten of thousands of homesteaders, traders and workers to: 'Go West!'